Designing of Tensile Structures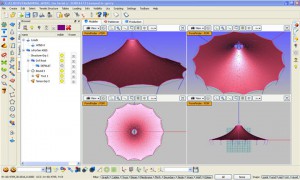 Designing of Tensile Structures
Al Tilad has come up with unique designs that are well suited to the desert environment. All kinds of Membrane tensile structure are designed using the latest CAD software to clients specifications.
Fabrication of Tensile Structures
We employ the best fabrication techniques to ensure a long lasting product. Our team of engineers makes sure that the steel and fabric used for the tensile tents are well suited and adapted to the environment. Most fabric structures are composed of actual fabric rather than meshes or films.
Typically, the fabric is coated and laminated with synthetic materials for increased strength, durability, and environmental resistance. Among the most widely used materials are polyesters laminated or coated with polyvinyl chloride (PVC), and woven fiberglass coated with polytetrafluoroethylene (PTFE).
We use high-quality coated fabrics for use in flexible tensile fabric structures (membranes) and constructions of tents. Woven as yarn (PES/glass) and coated (PVC/PTFE/PU) in widths of up to 5 m, materials with various types of surface seal (acrylic/ PVDF/FEP), manufactured by leading suppliers like Versiedage, Sheerfill, Mehler Texnologies, Serge Ferrari, Fiber Tech etc. Rigorous testing is carried out before the fabricated structure is ready of installation.
Quality control is throughout all over production
Achieved so to ensure product of zero defects is delivered to the client.